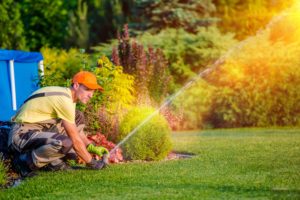 Kingwood Sprinkler has proudly served families and businesses throughout Texas for more than 30 years. With so many years of experience under our belts, our sprinkler company knows exactly what skill, dedication, and customer service mean to our customers. We make it our goal to provide high-quality sprinkler systems, sprinkler system repair, and sprinkler maintenance services.  Our technicians can also check your sprinkler systems and provide a tune-up when necessary. Whether you're looking to winterize sprinkler systems, or you would like to install a new sprinkler or irrigation system, please contact Kingwood Sprinkler today.
Sprinkler Systems | Services We Offer
We treat every job as if it were for our own home or business. We have the experience and tools necessary to fix difficult landscape drainage issues and protect your home or business from flooding that may threaten your foundation. From promoting healthy landscapes to delivering water-saving environmental watering systems, we work for complete customer satisfaction with every job.
Our emphasis on quality lawn sprinkler system repair has taught us the long-term advantages of using the highest standards in design and selecting the best equipment possible. Our dependable sprinkler services and competitive pricing have made Kingwood Sprinkler a recognized leader in the industry. From consultations, estimates, designs and installation, when you work with Kingwood Sprinkler, know that we have your best interest at heart.
Sprinkler Repair | Sprinkler Maintenance | Sprinkler System Checks

An automatic watering system maintained by Kingwood Sprinkler is one of the best investments a homeowner or business owner can make. Our team can handle any type of sprinkler system repair, big or small.  We take the time to ensure each job is completed right–the first time. With more than 30 years of service in the industry, our professional sprinkler maintenance and repair services speak for themselves. We also specialize in landscape drainage systems, gardens, foundations, drip irrigation systems for your flower beds, and underground repairs on all types of lawn sprinklers.
Contact Kingwood Sprinkler
If you have noticed any of the following problems, contact Kingwood Sprinkler today for a free estimate:
Running water that won't turn off.
Leaking or broken sprinkler heads.
Poor spray patterns and wasted water.
The need to cap off sprinkler heads.
Malfunctioning sprinkler controller units
Broken pipes.
The need to maintain freeze and rain sensors.
Cut wires.
Clogged nozzles.
Broken valves.
When you contact us, know that you will be speaking with a professional who understands the frustration you're likely feeling. We are here to help you improve the irrigation of your landscape.  We will achieve this through affordable and professional sprinklers services designed for both residential and commercial property owners.
Here at Kingwood Sprinkler, we use only the highest quality products on the market, supplied by leading sprinkler and irrigation companies such as Rain Bird and Hunter. These products, combined with optimized sprinkler design services that we have fine-tuned through years of personal experience, mean that you're getting the best maintenance-free, long-term sprinkler solutions in Texas.

With our systems, you can efficiently satisfy the watering requirements of your landscape without the worry and with ease. Not only will you benefit from an increased value of your commercial or residential property, but you can rest assured that Kingwood Sprinkler will be with you whenever you need us–for repairs, maintenance, or replacement.
To get started on your residential or commercial system, please contact us today.

We know you want your yard to be as well-maintained and beautiful as possible, which is why we offer a variety of home irrigation system services. Our specialists implement lawn irrigation systems to help ensure that your plants and landscape are properly watered directly at the root. Our team understands that drip irrigation can help prevent the foundation from shifting and reduce the likelihood of settlement issues around your property.
When it comes to high-quality irrigation installations, you can rely on the team at Kingwood Sprinkler. Our irrigation installation company installs systems that consist of some of the best irrigation products available today.  Meaning that you'll have your water system for years of repair-free and maintenance-free enjoyment.
Our irrigation installation experts can professionally install lawn irrigation systems for both commercial and residential property owners. When discussing your project, we'll take both your property and landscape requirements into account.  We'll also recommend the best way to optimize your system for the most efficient, effective watering solution.
Here at Kingwood Sprinkler, our systems are fully automatic and equipped with a remote control that provides a user-friendly experience. Not only will automatic irrigation make your life easier, but it will also increase the value of your property. Our team of landscape architects and sprinkler designers will carefully analyze the design of your garden and landscape as well as relevant plants to ensure that we install the sprinklers in the most optimal locations.
Should you have any questions about your irrigation, we are just a phone call away. We offer full consultation and maintenance services that are designed to make your life easier. From design and installation to repairs and maintenance, Kingwood Sprinkler can help.
It goes without saying that we know our stuff.  After three decades in the industry, we have faced nearly every sprinkler and irrigation system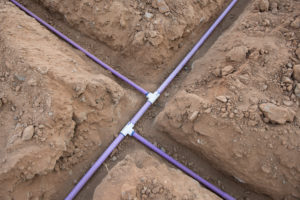 issue possible. From broken lawn sprinklers that can't seem to pump out water to an unresponsive irrigation controller, our technicians have seen it all. No job is too big or small for us, and we take pride in helping you to save money. From selection to the instruction on the proper use of your irrigation system, Kingwood Sprinkler makes every attempt to install a water-efficient sprinkler or irrigation system that reduces the stress on your life–and wallet.
Most of the time, the sprinkler system costs more than the installation.  This is determined by water consumption.  The most important factor in determining how much a system will cost is determined by the total amount of water you use. In the City of Austin, for example, water rates can be $10.00 for every thousand gallons, and an inefficient or malfunctioning system could increase your water bill by as much as 20 to 50 percent.
Here at Kingwood Sprinkler, we don't want you to throw away hundreds of dollars every year. Whether you're thinking about installing a new water sprinkler or replacing an older model, remember to compare the true cost of the system–not just how much it will cost to install the sprinklers.
Increase your home value

A beautiful garden and landscape show that you care about your property and home. If you plan to sell in the near future, investing in irrigation might be the key to increasing your home's value and, in turn, your asking price.
Save water
An automated watering system is designed to distribute the correct amount of water deep into the root system of the plant, ensuring that every drop is just as important as the next. Not only does this help your plants to grow and thrive, but it also saves you time that you would've spent watering as well as the money you would've wasted on watering when it wasn't necessary.
Save money
Again, money isn't wasted on an automatic lawn irrigation system. These systems are timed, programmed and use rain sensors to ensure that no water is wasted. Why pay for the water you aren't using? With automatic irrigation systems, you don't have to.
Save time
Are you tired of spending your precious free time outside in the hot Texas sun, watering your lawn when you could be indoors, relaxing with your family instead? Automated watering of the flowers, lawns, and gardens is invaluable to many people, especially if they have little to no free time to begin with. The timers we use are able to adapt to both your specific terrain and the climate in which you live.
Contact Kingwood Sprinkler Today!
By investing in one of our high-quality underground lawn sprinkler systems, you know that your property will receive the most efficient and accurate levels of water with no landscape patch left behind. Not only will your home or business beautifully flourish, but you'll also save money and large amounts of water.  All that thanks to our worry-free systems that improve your property's irrigation on their own. Whether you're a commercial or residential property owner, we have the equipment, products, and experience to help make your landscape the best it can possibly be. To learn more about our services or to schedule an estimate with one of our technicians, please contact Kingwood Sprinkler today.